Poetry Review: Lisa Coffman's Less Obvious Gods
By Jacqueline Marcus
(Iris Press; 78 pages; $14.00)



Lisa Coffman's second collection, Less Obvious Gods, is better than good, it's exceptional.
This is a poet who will not settle for writing a good poem. Good is not what she is aiming at. We're talking about a standard of near perfection. One has the sense that she has set an extraordinarily high standard for herself, and by all means, given her talent, intelligence, and her Keatsian sensibilities, she has met that standard of excellence.

I was introduced to Lisa about ten years ago when she and her husband were hired to teach at Cal Poly State University, San Luis Obispo. Unfortunately, though we are practically neighbors, I went off to explore a different lifestyle in Maui—and we lost contact between those years. What I remember about Lisa from the few times we met for poetry chats over wine is that she possessed a certain quality of introspection, I had the feeling that she was watching everything, taking it all in—nothing missed her eye, and that she weighed your ideas or work with calm deliberation.

As a resident of the central coast of California, there are places that I recognize in these poems that make them all the more enjoyable to read. Scenes from Morro Bay, for example, the sea birds, the scent of the harbor, the tourist shops, all come vividly to mind. Poetry doesn't get any better than this:

The Grebe

The wind beat its grand canopy of empty.
Breakers hammered a pitted ice color.

I turned to see the grebe make its way
dragging a flopped leg and win

back to the water I had carried it from
wrapped in my coat. While I went for a box

—misery being my invention—
reptile cousin, red tattoo eyes, hissing beak,

I saw you reach a cold pane that slid under, lifted,
saw you swim out, get knocked under, knocked backward, swim.

And at last sit hunched on the shore, facing outward.
All day your weight has lingered in my hands.

What is near now stuns like your body's touch,
cold sea, flare of wings.

What is it to live wild?
Not separate from what you are ruled by.


This poem needs no commentary. It speaks for itself. It is what we call in the poetry biz one of those perfect poems that hits all the right chords, that comes together beautifully.


***

Coffman's focus on details is remarkably vivid. This is because she remains open to discovery. In Coffman's world, the poem is not written as "concept" but as "percept". Whatever it is that captures Coffman's imagination, you have the feeling that she is awed by it: her poetry reflects the living pulse and mystery of the natural world. Again, she has this Keatsian "negative capability" talent of being able to break down the divide between observer and that which is being observed. Take for example the poem, "Calf" – most people would look at a calf that died and say that "it died during birth," and in that statement, the mind shuts down or builds a buffer so that you don't see what's right in front of you. Coffman, however, takes you up close: it's personal, cinematic, as if on reading this poem you were right there with her – looking at a mystery:

And when the forelegs unlaced and let go,
when the little beads of hips slid, and the skull
foreshortened of hide seemed nearly human

still I came stitching myself under the fence wire
to crouch by the bright, wrung hide
by my galoot dog openly crunching the teaset-size bones.

The calf died the way it slept
curled around the charm mound of its head,
one leg folded, one pointing a clean pink hoof forward…


You can describe something as it is to the best of your ability or you can write a poem that makes the reader see, you can say for example "a book fell into the river" or "a book floated down the river like a blue fish, catching a glimmer of sun." The idea is to be a little above reality, to lift the reader into the poet's world of imagination.

My initial reaction to the title of the poem, "Tick", was a tick? Why write a poem about a tick? And the poet would most likely reply, Why not? Moreover, HOW do you write a poem about a tick and do it in a way that makes this little blood-sucking, most-hated-insect-next-to-the-mosquito seem fascinating? Leave it to Lisa Coffman to accomplish the impossible:

Harpoon-lipped wicked French kisser,
you near-do-nothing fattening
at someone else's board. How come
no heart beats all that blood, heat drop,
ballooned thirst, all lust? If our lives
are wrought by curse, who thought up yours
and for what crime?...

Homely stigmata non grata,
we are not spared the cruelty
of mashing you with a brick edge,
a letter file, or, with tweezers
holding you to the thin match flare
until you pop. You do not go
easily, but ride the toilet's
tipped flush, upright as a captain…


I had to laugh on reading this poem and yet, it's admirable that Coffman pulled it off so well.
Everything can be a subject for the poet's eye, including a "black radish," the many uses of a "comma": "Comma, half swish, quick skirt, catch for rest, / falling through the two elements: / above, the world of words, below, an uncertainty…"

These poems dazzle the imagination. I'm awe-struck by the way this poet thinks, by her creative intelligence, her inquisitiveness, the child-like curiosity that is alive and well. The poems in this collection have the signature mark of originality and genius as Gertrude Stein said "genius is having the ability to make the familiar appear unfamiliar."

How about writing a poem with the title "Time"? That's a difficult challenge to say the least. But again, Coffman pulls it off brilliantly, inspired by a fragment from Sappho:

We have called you fleeting
when we in fact are the brief ones.

We have said you steal,
when you could not have been more generous:
our clocks exhaust themselves
counting what you offer;
rocks crumble
before they are done being your ledgers…


Or take the poem "Secrets" as another example of how her creative intelligence works:

Room within every room.

Moon the horizon
is pressed to release.

Undeveloped, colorless

image exposed and gathering
in the necessary dark…


Coffman goes on to describe the vow of secrecy as a "treasure that cannot / be taken out and admired, / you know your worth / lies in the withholding—/ your marked X more exotic / than the bauble it stands for—"

Lisa Coffman chose a painting by Sarah Mceneaney for her cover, Morning. The image is a brightly animated household, kitchen, cats, dog, a woman dressed in a loose white shirt and jeans reading a paper with a cup of coffee, clean dishes stacked in the sink, and without getting into the question of perception or optical illusions in the painting, what impresses me is the idea of the quotidian, that among the mundane chores, the family life, the children, the pets—what appears to be the domestic life in the suburbs is a luminous orbit of gods where the small and the conventional have a special order of light in and of themselves, daily rituals that we take for granted are actually the keys to the kingdom of creative life, plants and objects, birds and fruits, wine and radishes—they all offer their own unique stories to this poet.

These poems radiate with a summery-dark light of the sea and various seasons of the sun, they're sensually delicious and bristling with music and magic. In "Kiss" the poet writes "Naughty: the lines you blur but won't erase. / Tan line, lip line, language of a contract. / Strewn softness swamping the tooth, / balm to the wound, and wound giver, and wound,.."

In "Born Under the Sign Of" about giving birth to her daughter, Coffman writes, "You came in under the Vacancy light of my hotel-sign heart,…" What a line!

Robert Hass speaks of poetry's "reaching always for a more complex notion of form, not a reductive thinking, but an enlarging one, one that reaches out—in order to see more, to hold more: to be more." I suspect that if I were to invite Lisa to write about anything in my house, say—that living plant of basil on the kitchen counter—she would not only be able to do it, she would discover, in the Blakean sense of the word, an entire universe in that basil and write so imaginatively about it that you would never look at basil again in the same way. Trust me, that's not only difficult to do—it takes a great deal of word-master skill, intelligence and above all else, talent.

Lisa Coffman is most likely a very kind and generous teacher to her students, but when it comes to her own work, she is brutally hard on herself, she is her own harshest judge and critic, and yet, in spite of this or perhaps because of it, she has not settled for less—she aimed for the stars, and she succeeded.

Less Obvious Gods is the best of the best—it's in a league of its own.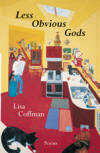 About Lisa Coffman: Visit www.LisaCoffman.com
Lisa Coffman has received fellowships for her poetry from the National Endowment of the Arts, the Pew Charitable Trusts, the Pennsylvania Council on the Arts, and Bucknell University's Stadler Center for Poetry. Her first collection of poetry, Likely, won the Stan and Tom Wick Poetry Prize form Kent State University Press. She teaches at the California Polytechnic State University in San Luis Obispo.
—Jacqueline Marcus, editor of ForPoetry, author of Close to the Shore (poems) by Michigan State University Press. She is contributing political writer for Buzzflash at Truthout.org